WHY BRANDING IS MORE IMPORTANT IN 2017 THAN EVER BEFORE
Evolution of branding
Ever since the first days of brand development and marketing, branding has never been as complex as it is today. Marketers and designers are being pushed to create content for so many different channels, each one coming with it's own set of rules and demands. Never before has branding demanded so much consistency and flexibility over so many different channels. We are witnessing constant evolution of media and consumer preferences and the trends are changing quicker than ever. Marketers and designers are facing almost day-to-day challenges in keeping up with the trends. That's why creating solid core values and brand guidelines and a story is the single most important step in the branding process.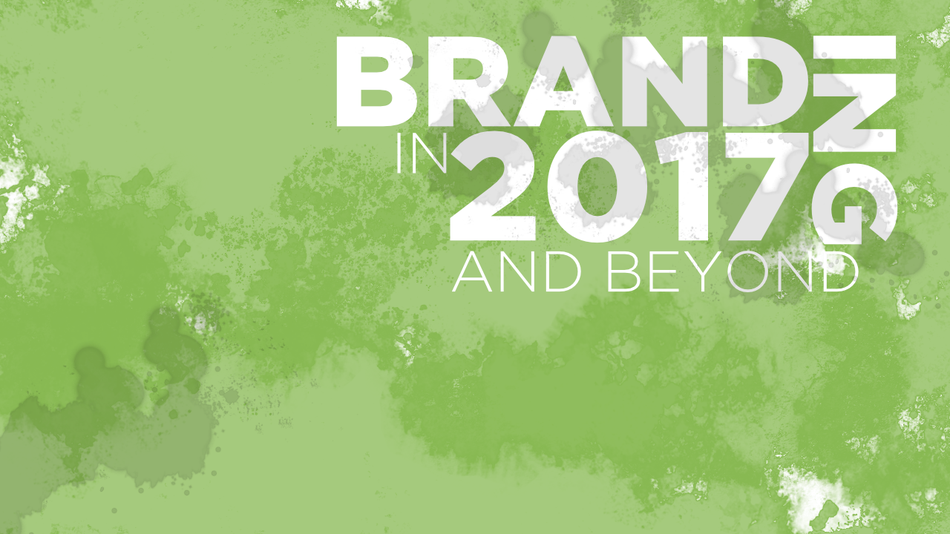 One brand to rule them all
Whether you're a sole proprietor, small or medium business or a large company, you need some kind of visual identity. In 2017. you have no excuse to ignore this. Visibility is everything. Micro-locations, geo-tagging, post sharing, etc. are all fantastic additions to traditional media on both local and global levels. If you're not present in both worlds you are losing 50% of your consumers. So how do I set up my own brand and story? First of all, you need to ask the right questions.
The first question is all about you, of course. Who am I? What is my product/service? Pretty basic, yes. Once you figure that out you will want to give your business a visual identity. The first step is making a logo. And that's where the fun starts! This is where your brand story begins. And one of the most important questions you want to ask yourself  (besides your color and style preferences) is What is my target audience? From there on, explore all the aspects of your business - Is it local? Online? Small business? E-commerce? Who are my competitors? Do I have a statement, a tagline? Where do I see my brand in 5 years? Find the answers and suddenly your brand starts to shape up!
Omni-branding
Branding starts with a logo and a story but expands quickly into every pore of your business. Branding outlines your core values, defines your style and colors, specifies use and positioning of your logo, develops additional elements to be included into your visual identity, creates guidelines for typography. But it also specifies how your visual style communicates to your audience. And that's where the heavy stuff kicks in.
Branding demands consistency in today's omni-channel world. Whether you are doing an ad in the local newspaper or starting a campaign on Facebook, you have to make sure your audience will instantly recognize your brand. That's why setting solid core values becomes important - your brand guidelines should be consistent over so many channels - print, web, tv, even radio! It's not only how it looks, it's also how it feels. 
Branding demands flexibility in this fast changing world. Trends come and go much, MUCH faster than ever before. Every day something (or someone) goes "viral", gets 1 million "views" and gains 100,000 "followers". Internet explodes almost every other day. And a month later? Barely anyone remembers it! Should a brand follow the trends? No. But, It should definitely be flexible enough to adapt to new situations and new standards. Brands are not static anymore, they listen, communicate, react. Tweeting and instant messaging has not only changed the way consumers interact with each other but also the way they interact with their favorite brands. Engaging images, videos, polls, contests, even memes! - are all building blocks for your brand. 
Yes, taking care of each and every channel can be overwhelming. Especially having in mind consistency and flexibility across different channels. It comes down to micro-managing your visual identity frequently. Changing your social media profile images can be a gruesome task because each social network requires different sizes for the profile and cover images. Your local printer requires a .pdf with bleeds and cropmarks to print your business cards correctly. The contact section of your website needs a good headshot to go with the info. Oh, and the video we need for the presentation should not be longer than 30 seconds! 
Yes, overwhelming.
That's why taking care of a brand is an ongoing task that requires a lot of discipline and attention to detail. Agencies and creative individuals around the world are being pushed to provide a continuous all-round experience for their clients. From logo design down to the very last cover photo on Twitter, brand guidelines should always be respected, but also allowed to expand. Introducing motion graphics from the initial brand style should have a natural flow, expanding into new media should follow the guidelines and include the same elements and so on and so forth. Hiring a designer on Fiverr or Upwork for a "quick job to update my logo" or a "one-time project for 2 flyers" just isn't doing it anymore. If you're serious about your business, you can't afford to improvise because it will most surely backfire at you. 
Trends to watch out for
 As  a brand evolves it embraces or rejects certain trends. One of the trends that continues to expand is atomization of branding. This includes breaking down the visual style into "blocks" or branded elements. Custom images, icons, graphics and sounds envelop the brand style and present it in consistent and responsive fashion. Brands will continue to interact and connect through Emotional branding offering personalized experience and responsiveness. Flat design continues to dominate UI/UX integrations through simple and functional design. Hand-lettering is attracting a lot of attention. Also, latest trends are showing a steady decline in using stock images and graphics after lots and lots of comments from clients saying how "they all look the same". Custom designs are being valued more and companies are willing to pay top dollars for unique and original designs and photos. With AI and VR just around the corner it will be interesting to see where new technologies will take design, advertising and product placement. 
As for designers, mastering in one area is still as important as ever but simply not enough anymore. Designers are forced to improve existing skills and acquire new ones quickly. New technology developers are in high-demand. Growing range of new design tools and processes demands full attention and flexibility. Adopting user-centered design thinking is becoming increasingly important in order to create innovative and unique brand designs. It's an exciting time to live and create in for all creative individuals!
- Darko
---

Darko Kriznik is a graphic designer with 15 years of experience in graphic design and a strong background in the printing industry, specialized in logo design and branding.
---